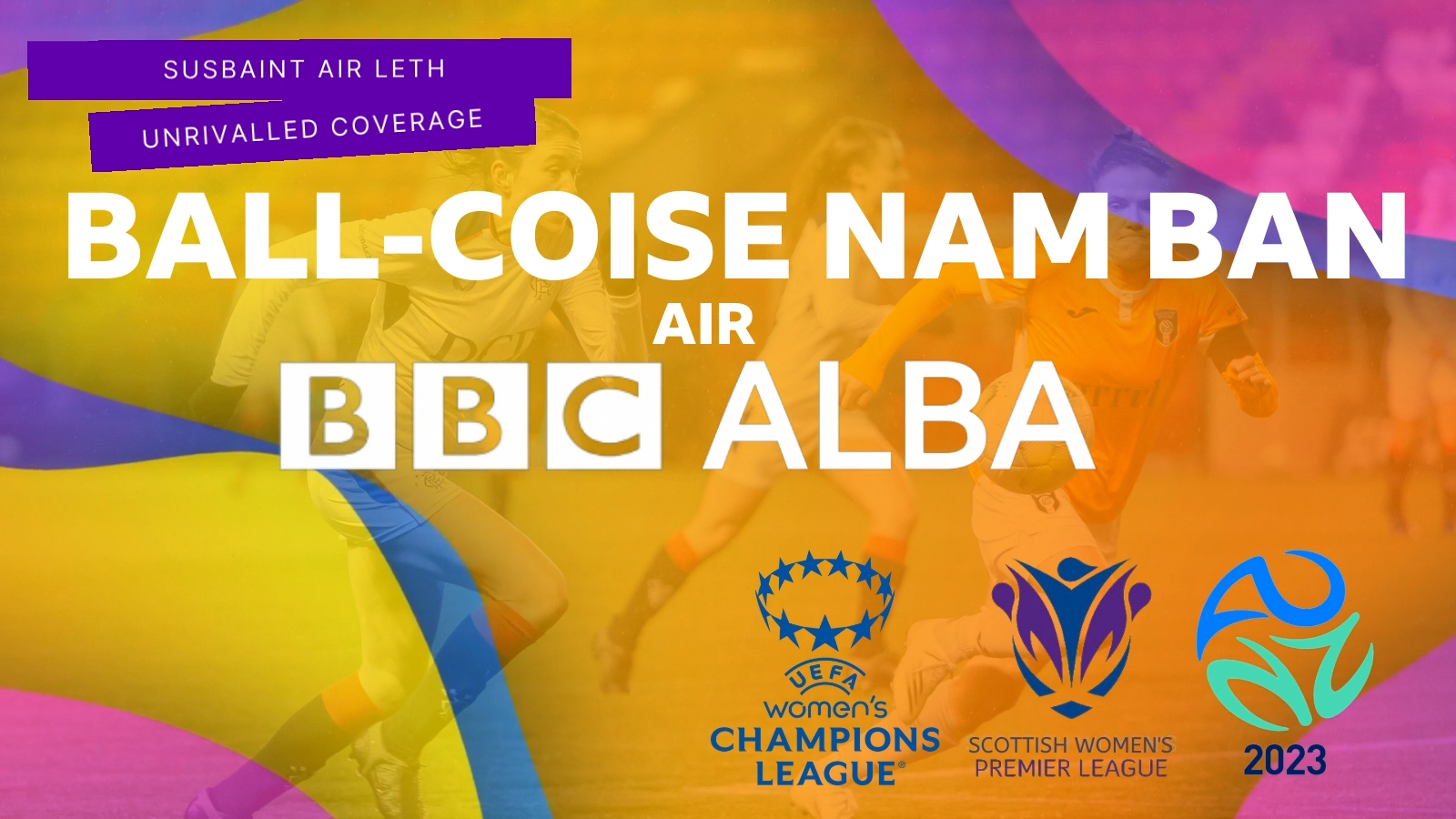 BBC ALBA today announce unrivalled coverage of Scottish women's football with a record 20 live Scottish Women's Premier League matches alongside exclusive live coverage of Scotland's Women's World Cup Qualifiers.
Also announced today is BBC ALBA's coverage of Glasgow City's crucial Champions League Round 2 matches, the firs on Wednesday evening.
Scotland's top league sides will battle it out on BBC ALBA this Autumn, opening with newly promoted Aberdeen hosting Celtic on the first day of the new season.
Scottish Women's Football CEO, Aileen Campbell, said: "We are delighted to announce a further enhanced broadcast partnership with BBC ALBA going into the new season. They are genuine partners to the women's game, always striving to enhance the product they provide and to show the women's game the respect it deserves.
"Having watched the drama of the 2020/21 SWPL 1 drama unfold, I know personally how important visibility is. It's vital that SWF ensures that women's football remains readily available and that we look to engage with football fans across the country.
"We also look forward to seeing fans back in person as I think everyone will agree, the atmosphere they provided on the final day of last season certainly added to the drama and excitement."
Scotland's Women's National Team will also take centre place on BBC ALBA in their upcoming qualifying campaign for the 2023 Women's World Cup.
BBC ALBA followed the SWNT through the qualifying and finals of the 2019 Women's World Cup, and they start this campaign away to Hungary on the 17th of September.
Fiona McIntyre, Scottish FA Head of Girls' and Women's Football said: "BBC ALBA's support is vital to the promotion and development of the game in Scotland.
"Interest in the women's game has grown exponentially in recent times and that has been greatly harnessed by the continued support of BBC ALBA in broadcasting the Scotland Women's National Team matches.
"To have the forthcoming campaign broadcast live for our supporters is a tremendous boost and we look forward to the team not only playing in front of impressive crowds at Hampden Park but also large audiences on TV for home and away matches."
BBC ALBA is also continuing its coverage of the UEFA Womens Champions League with Glasgow City's second round game against Swiss side Servette, as they battle to get into the Women's Champions League for the 11th year running.
Laura Montgomery, Chief Executive of Glasgow City FC, said "Wednesday's Champions League game against Servette is huge for Glasgow City and being live on BBC ALBA and iPlayer allows our fans across the country to tune in and keep up with the team's UWCL campaign."
These latest announcements contribute to BBC ALBA's unrivalled Women's Sport coverage, which is showcased each week by digital magazine show Women's Sport 360, broadcasting on the BBC iPlayer and the BBC ALBA YouTube each Thursday at 8pm.
Women's Sport 360 brings the latest developments and news in the world of women's sport to BBC ALBA's digital platforms, whilst providing a platform for interviews and features from some of the biggest names in women's sport.
Iseabail Mactaggart, Director of Multiplatform Content at MG ALBA, which operates BBC ALBA in partnership with the BBC, said: "We're delighted BBC ALBA will be bringing coverage of the world cup qualifiers as well as unprecedented coverage of the domestic league to our audiences, , and the latest Women's Champions League action. This is another important step in increasing appreciation and visibility of women's sport and, for BBC ALBA, ensuring the channel continues to be a door to Gaelic to non-Gaelic speaking audiences.'
Currently confirmed fixtures are as follows;
SWPL
• Aberdeen v Celtic | Sunday 5th September | 16:00| Balmoral Stadium
• Celtic v Glasgow City | Sunday 12th September | 16:00 | The Penny Cars Stadium
• Hibernian v Rangers | Sunday 3th October | 16:00 | Tony Macaroni Arena
• Glasgow City v Rangers | Sunday 17th October | 16:00 | Petershill Park
• Celtic v Rangers | Sunday 7th November | 16:00 | The Penny Cars Stadium
UEFA Women's Champions League Round 2:
• Servette v Glasgow City | Wednesday 1st September | 1805
2023 Women's World Cup Qualifiers
• Hungary v Scotland | Friday 17 September
• Scotland v Faroe Islands | Tuesday 21 September
• Scotland v Hungary | Friday 22 October
• Scotland v Ukraine | Friday 26 November
• Spain v Scotland | Tuesday 30 November
You can watch Women's Sport 360 here on BBC ALBA iPlayer & BBC ALBA YouTube