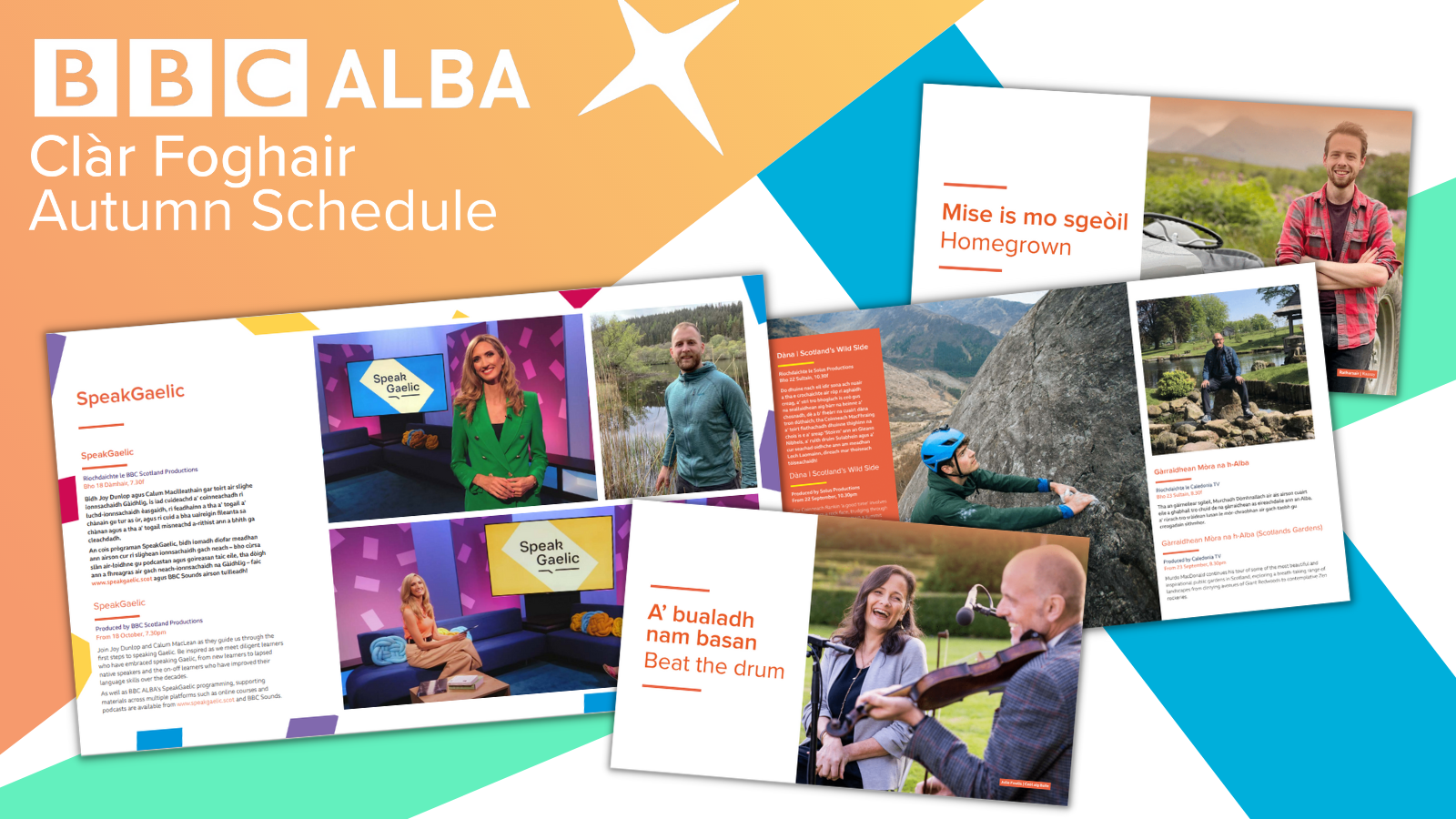 BBC ALBA unveils a packed autumn schedule of new programmes today (10 September) with stories which are set to thrill and inspire, take us on exciting outdoor adventures and offer the very best live music in Scotland.
SpeakGaelic is a new and engaging multi-media learning programme, designed for absolute beginners and lapsed learners and is set to inspire and support a new generation of Gaelic speakers.
SpeakGaelic will be led by popular TV and radio personality Joy Dunlop and wild swimming social media star Calum Maclean.
Scotland's stunning landscape is the backdrop to a number of new series this Autumn: After travelling the NC500 and Wild Atlantic Way, Anne Lundon explores An Cuan Sgìth/The Minch, the stretch of water linking the North West Highlands and the Hebrides where she meets those who live and work in these coastal communities.
People's stories are at the heart of BBC ALBA's schedule as 28-year-old rally driver Mairi Ross from the Isle of Lewis attests. Mairi's goal is to obtain every form of vehicle license she can from, bike and bus to HGV, all whilst becoming a mum for the first time. Watch how Mairi's story unfolds in Mach às mo Rathad/Born to Drive. And in Afro-Gàidheil / Afro-Gaels, Gaelic speaker Cass Ezeji examines what the term 'Gael' means to other Gaelic speakers who share her African and Caribbean heritage.
Climber Coinneach Rankin shares his passion for Scotland's wild spaces and gives viewers a unique glimpse of stunning scenery and adventure when they are transported to the rock face in Dàna | Scotland's Wild Side.
Ratharsair explores the island of Raasay, which as although the same size as Manhattan, has less than 200 residents and faces both challenges and opportunities for the future and Ramsay MacMahon returns with his guide to Scotland's great weekend escapes in Mach à Seo!
Seumas MacLetchie takes viewers on a charming and nostalgic tour through the islands' unique freshwater angling world and finds out about the heritage of his own profession in Trusadh: The Ghillie's Story, while Evelyn Coull explores the deserted villages of Lewis and Harris' rural landscape in Trusadh: Beatha air an Oir / Lost Villages re-discovering the lives lived and considering the lessons they offer to a new generation.
Gàrraidhean Mòra na h-Alba/Scotland's Gardens takes viewers on a leisurely tour of four inspirational public gardens in Scotland including Botanic Gardens and a formal Japanese Garden with a fascinating history. Edinburgh and environs provide the dramatic setting for Sàr-Sgeòil: The Prime of Miss Jean Brodie, as Cathy MacDonald discovers the fact behind the fiction of Muriel Spark's seminal novel.
Golf: Mun Cuairt Alba explores hidden gems and well-known golf courses in Scotland and hears from golfers of all ages with tips from professionals along the way. And while the presenters of Seòid a' Chidsin/ The Kitchen Coves, Roddy and Uisdean, can't visit other countries just now they can still enjoy the cuisine, taking viewers to all points of the compass, from their very own kitchen.
The environmental challenges we face are explored and discussed topic in BBC ALBA's flagship current affairs programme Eòrpa, as the United Nations COP26 climate change conference convenes in Glasgow and CBBC ALBA launch a new programme Uaine / Green offering young people's perspectives while crofter Donald 'Sweeny' MacSween from BBC ALBA's An Lot will be asking what he can do to help the environment in Mac 's Uaine / MacSween Goes Green.
Music fans are in for a feast of live performances from the TRNSMT music festival in Glasgow, the Royal National Mod in Inverness and the semi-finals of this year's BBC Radio Scotland Young Traditional Musician of the Year. Julie Fowlis hosts a second series of the lockdown inspired Julie Fowlis | Ceòl aig Baile with an array of traditional music stars in four locations – Inverness, Skye, Moidart and Glasgow. As an additional treat, Julie also re-visits classic performances from the seminal series which brought together stars of country, folk and traditional music, The Transatlantic Sessions.
BBC ALBA's children's schedule will have new series such as Alba Eagalach which follows a team of plucky presenters as they travel to places infamous for their perplexing pasts, horrifying hauntings and odd occurrences alongside some fabulous animations including Pompon Little Bear and The Adventures of Tintin.
BBC ALBA continues to position itself as the home of women's sport with coverage of Scotland's FIFA Women's World Cup Qualifiers, the Scottish Women's Premier League, Scotland's Women's Rugby World Cup qualifying campaign plus the weekly digital digest of all the latest news in Women's Sport 360, available on BBC iPlayer and BBC ALBA's YouTube.
And for the first time ever on BBC ALBA, there will also be live coverage of the Camanachd Cup Final on Saturday 18th September.
The full schedule of programmes is available in the BBC ALBA digital autumn schedule.