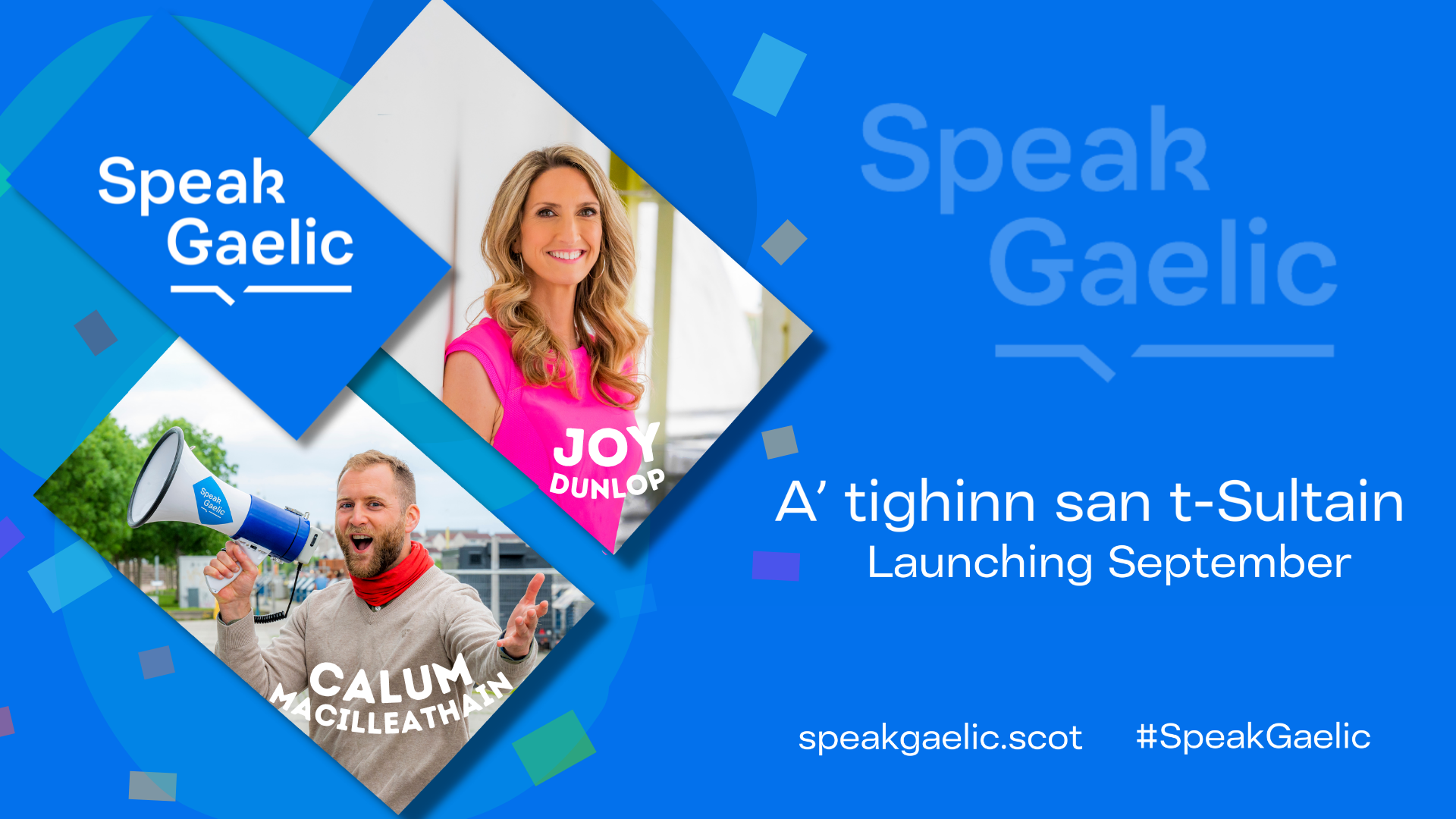 Excitement builds as the presenters of SpeakGaelic are unveiled
BBC presenters and social media stars, Joy Dunlop and Calum Maclean are to lead SpeakGaelic, a new language learning initiative aiming to transform take up of the language.
SpeakGaelic's exciting and ambitious new Gaelic learning resources will provide a comprehensive framework for Gaelic language learning across TV, iPlayer, BBC Sounds, web, face-to-face classes, YouTube and other social media to attract and inspire learners and speakers.
Joy Dunlop, from the village of Connel in Argyll, is familiar to many who watch BBC Scotland and BBC ALBA as a regular weather presenter, musician and programme contributor.
Commenting on the announcement, Joy Dunlop said: "As a lifelong learner myself, I know how much of a rewarding challenge learning a language is, so to be part of a project that will be stimulating learners to put their Gaelic skills to use across such a wide array of learning methods is so exciting. I'm regularly asked 'what is the best way to learn Gaelic?' What is so ingenious about SpeakGaelic is that it really does offer a choice in how you learn, finding the way that suits you."
Calum Maclean is known to social media regulars for his outdoors content (including his unforgettable 'midge challenge') and in BBC ALBA's Dhan Uisge, he showcases his passion for wild swimming in the seas, lochs and rivers around Scotland.
Calum, who will be contributing outdoor features to the SpeakGaelic programmes, said: "Just playing a part in helping other people learn and enjoy Gaelic is a privilege, particularly as this is a huge moment in what we offer to people who want to join us in being Gaelic speakers. I really love being able to pass on knowledge to those that are curious, particularly doing it my own way, building Gaelic into the great outdoors. The language, and the pull it has for so many people, is hugely rooted in our natural surroundings in Scotland, so it's a natural step for the future of Gaelic learning to be coming from there too."
SpeakGaelic's project board chair, MG ALBA's Iseabail Mactaggart, said: "SpeakGaelic is set to be the most comprehensive Gaelic learning initiative in a generation. It is a hugely exciting moment to be revealing that Joy and Calum – two brilliant and dynamic personalities – will be presenting the programmes. SpeakGaelic will be for all those with an interest in speaking the language, whether it is those whose learning journey is already underway, those who are less confident about their ability to speak, those new to Gaelic or those of us whose Gaelic learning journey will be lifelong. All of us in the partnership are excited about creating the opportunities through SpeakGaelic for everyone in the Gaelic community to #cleachdi! – to use their Gaelic."
See www.speakgaelic.scot to sign-up for updates.