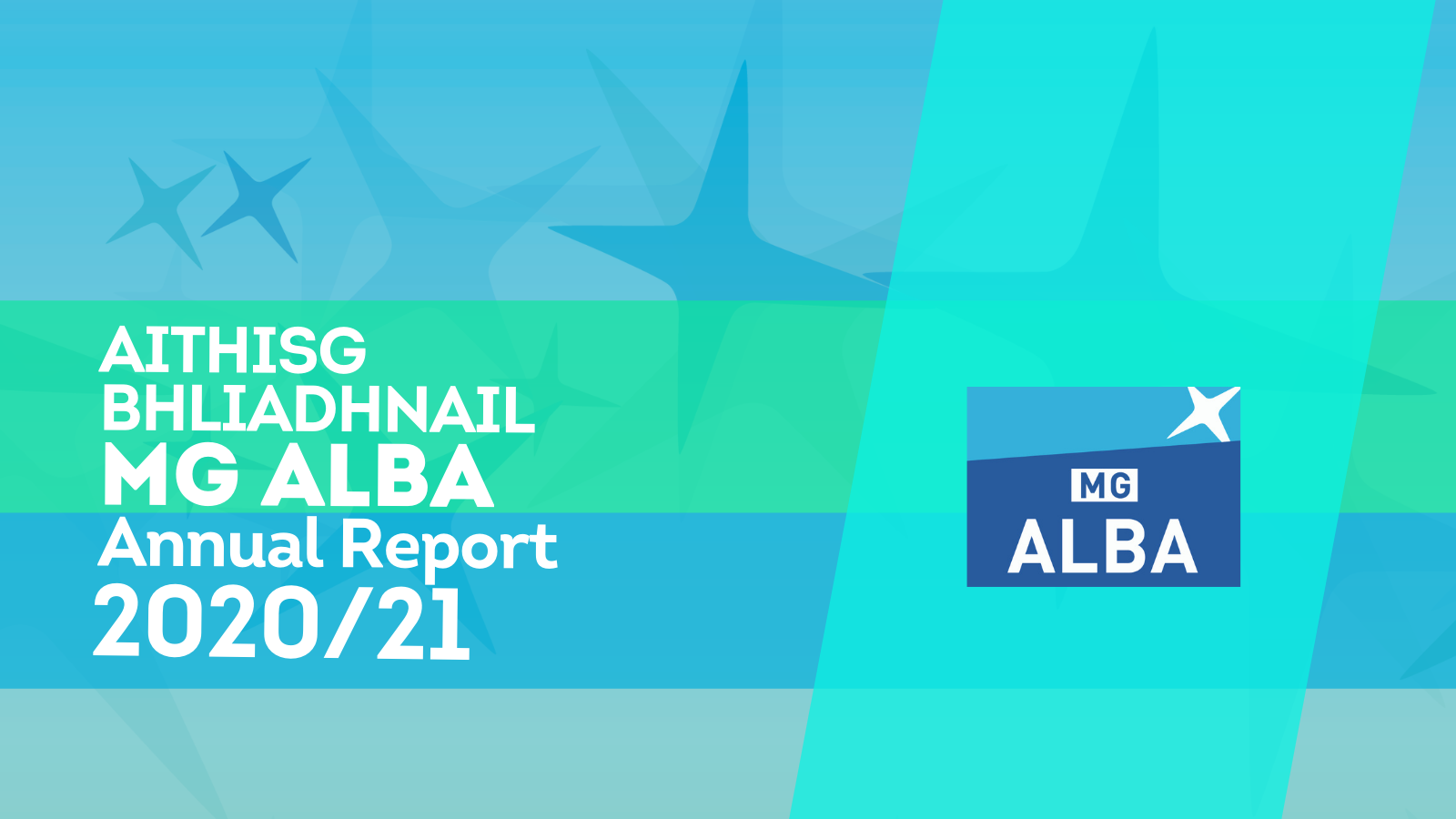 The theme of the MG ALBA Annual Report, released today, is one of celebrating hard work and achievement in difficult circumstances, whilst also warning of the challenges ahead for Gaelic media.

The report outlines a year of growth for MG ALBA, despite the impact on the organisation and its suppliers of the Covid pandemic; with BBC ALBA, LearnGaelic and FilmG all attracting increased engagement from audiences.
Across the financial year, BBC ALBA saw an increase in its core audience reach on television and BBC iPlayer in a year with significantly fewer live events and less sports coverage, traditionally popular offerings on BBC ALBA.
FilmG, MG ALBA's annual Gaelic short film competition, saw a record number of entries with the awards ceremony broadcast exclusively on BBC ALBA for the first time ever in April 2021.
LearnGaelic, MG ALBA's online Gaelic learning website saw record unique visitors across 2020 and a 26% increase from the previous year, with an upsurge of interest in learning Gaelic through lockdown.
In September 2021, MG ALBA will launch SpeakGaelic, a new and ambitious multi-platform Gaelic learning project, in partnership with the BBC, Sabhal Mòr Ostaig and with funding from the Scottish Government and Bòrd na Gàidhlig.
In his Annual Report message, MG ALBA Chair Allan MacDonald, welcomed the positive year but raised the question of adequate finance being essential as Gaelic media looks to the future, stating:
"MG ALBA is currently holding discussions with the UK Government as they review the BBC Licence Fee Settlement in preparation for the next five years. It is of paramount importance to the future of Gaelic media that it should be adequately funded as a matter of public policy."
Also looking to the future, Donald Campbell, Chief Executive at MG ALBA said:
"In 2021, we will publish our new five-year Lèirsinn: Route Map for Gaelic Media. At the heart of our vision is a commitment to serving all our audiences, including especially younger users of Gaelic who, in common with their generation, consume more of their content on devices and in short-form.
"The size of this task should not be underestimated. Funding for BBC ALBA is still not sufficient to provide a full service. I would highlight that BBC ALBA was able to provide only four hours of drama and comedy in the year just ended, and this is simply not enough to connect regularly with younger audiences. If BBC ALBA is to be consistently meaningful for younger audiences, additional investment must be found."