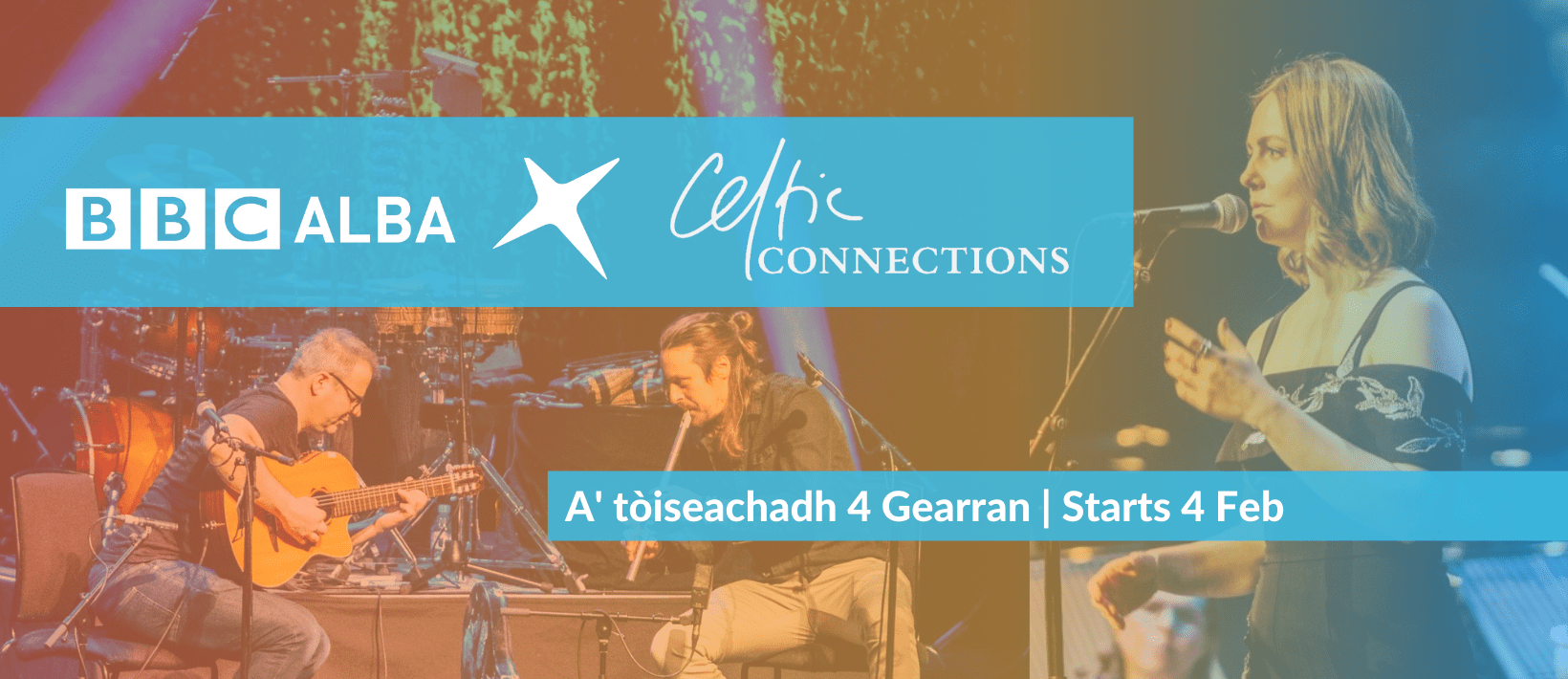 Scotland's premiere winter music festival Celtic Connections has once again partnered with MG ALBA to bring a selection of high-end performances and programming to BBC ALBA this February.
Coverage kicks off with Cuirm @ Celtic Connections from 9pm Friday 4 and Saturday 5 February, with Gaelic singer Mischa MacPherson bringing festival highlights from acts as diverse as virtuoso multi-instrumentalists Tim Edey & Ross Ainslie, Scots singer Fiona Hunter and MG ALBA Gaelic Singer of the Year Kim Carnie.
Also featuring in Cuirm @ Celtic Connections will be Shetlandic fiddle maestros Fiddler's Bid, renowned West Highland fiddler and Gaelic singer Megan Henderson (whose debut album Pilgrim Souls is hot off the press) and Lauren McColl and Rachel Newton's moving tribute to women executed in the historic Scottish witch trials.
BBC ALBA viewers can also tune in to Seirm | Celtic Connections to enjoy a stellar international lineup of the festival's best artists and familiar faces, over 6 hour-long programmes from 12 Feb onwards.
Presented by stalwart of the traditional music scene in Scotland Mary Ann Kennedy, Seirm | Celtic Connections promises performances from acts as diverse as The Henry Girls, Trail West, The Trials of Cato, and Blue Rose Code.
Fresh from her Transatlantic Sessions gigs, US singer Leyla McCalla brings a mix of Creole, Hiatian and Cajun influences in Seirm | Celtic Connections, and audiences can also expect a masterclass in folk fluting from Brian Finnegan of Flook fame.
Summertime promises additional highlights from this year's extended festival schedule; a recording from Gaelic electronica band Niteworks' concert backed by the SSO will feature on BBC ALBA, as well as a landmark performance from Capercaillie, who spearheaded the revival of traditional Celtic and played an integral part of Celtic Connections' establishment and success. Capercaillie will also be backed by the SSO.
Margaret Cameron, Commissioning Editor and Head of Creative Partnerships at MG ALBA said: "It's a delight to be bringing Celtic Connections to BBC ALBA once again, especially in such challenging circumstances. We're so grateful for the co-operation and support of the festival and the artists in helping us to bring such special performances to those at home, and as always, the line-up does not disappoint!"
Donald Shaw, Creative Director, Celtic Connections said: "It's wonderful to be continuing our long-standing partnership with BBC ALBA for Celtic Connections 2022. We're grateful to the team at MG ALBA for their ongoing support. BBC ALBA audiences will be able to tune in to watch an exciting array of talent and performances curated from this year's festival, representing some of the best and most promising artists who continue to grace the Celtic Connections stage."
BBC ALBA's Celtic Connections coverage begins on Friday 4 Feb – for more info and the most up-to-date schedules, see bbc.co.uk/alba for more.
All BBC ALBA programming will be available on the BBC iPlayer for 30 days after broadcast.
See BBC ALBA's social media for more info.