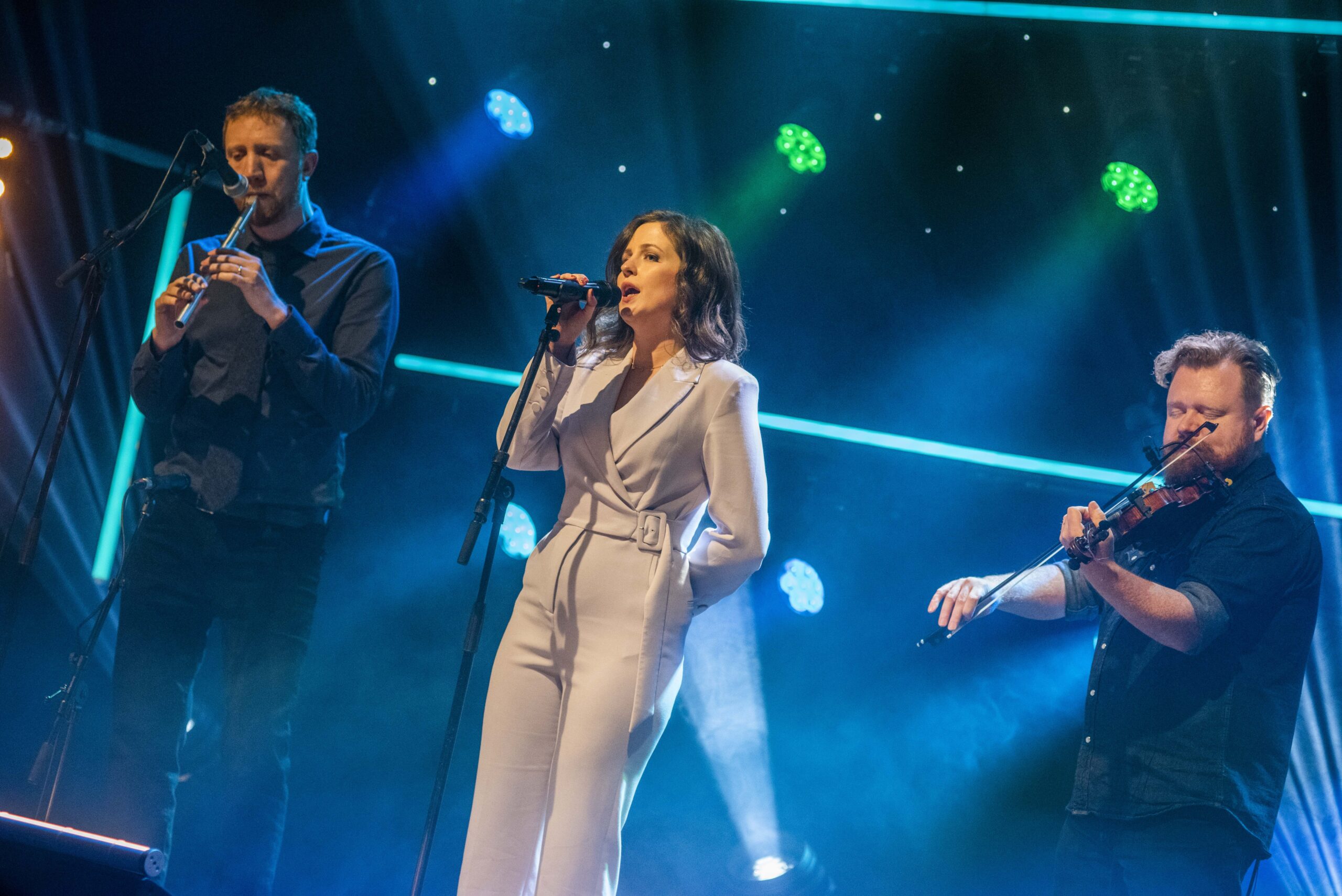 MG ALBA Scots Trad Music Awards announced 2021's diverse Award Winners after a record 180,000 public votes, as it returned to Glasgow on BBC ALBA and in front of a live studio audience.
The stellar MG ALBA Scots Trad Music Awards annual Gala evening champions top Scottish traditional musicians of all genres in a glittering ceremony, recognising, and celebrating the wealth of talent via phenomenal performances, which this year took place at Glasgow's Engine Works, and was broadcast on BBC ALBA at 9.00pm, Saturday December 4th, 2021, and streamed live around the world from www.bbc.co.uk/alba
With live music and event restrictions in place since lockdown began, Hands Up for Trad has been working hard since March 2020 to support artists and provide alternative platforms for musicians to reach their audiences, fundraise and sell tickets online.
Continuing their long-term partnership with MG ALBA to broadcast the Awards live in 2021 in front of a small audience of nominees due to Covid-19 regulations, bringing everything live into people's homes remains a huge part of the annual event.
Margaret Cameron, Commissioning Editor and Head of Creative Collaborations said: "Congratulations to all of tonight's winners – every year, it's an absolute pleasure to see the amazing wealth of talent coming up through the ranks and gaining recognition for their creativity and commitment to the Scottish traditional music scene. MG ALBA is proud to continue to support these artists, who have been put to the test over the past 18 months, and to help acknowledge the most innovative and exciting ways they contribute to the trad music scene."
The winners of the twelve MG ALBA Scots Trad Music Awards 2021 are:
Original Work of the Year sponsored by PRS for Music
Calum MacPhail – 7 Years Old
Community Project of the Year sponsored by Greentrax Recordings
Riddell Fiddles' Two Towns Housing Estate Youth Musical Outreach Programme
Event of the Year sponsored by VisitScotland
Celtic Connections
Gaelic Singer of the Year sponsored by The Highland Society of London
Kim Carnie
Musician of the Year sponsored by The University of the Highlands and Islands
Iona Fyfe
Online Performance of 2021 sponsored by Gordon Duncan Memorial Trust
Norrie "Tago" MacIver Live Streams
Citty Finlayson Scots Singer of the Year sponsored by Traditional Music and Song Association
Ellie Beaton
Trad Video of the Year sponsored by Threads of Sound
Doddies Dream – Bruce MacGregor
Trad Music in the Media sponsored by Sabhal Mòr Ostaig
Ceòl is Cràdh (Mental health in musicians' documentary) (BBC ALBA)
Up and Coming Artist of the Year sponsored by Royal Conservatoire of Scotland
The Canny Band
Music Tutor of the Year Award sponsored by Creative Scotland's Youth Music Initiative
Craig Muirhead, Director of Piping and Drumming at Strathallan School
Album of the Year sponsored by Birnam CD
Where the World Is Thin by Kris Drever
Organising body, Hands Up for Trad funded by The National Lottery through Creative Scotland, was formed in 2002 and exists to increase the profile and visibility of Scottish traditional music through information, advocacy and education to artists, participants and audiences.
Hands Up for Trad's Creative Director Simon Thoumire said: "I am so thankful to everyone who voted and came out to support our musicians and cultural scene to bring the atmosphere and the 2021 MG ALBA Scots Trad Music Awards into living rooms this year. It's inspiring and an honour to work with so many determined and creative people and organisations who have continued to find ways to shine a light through such an unprecedented time."