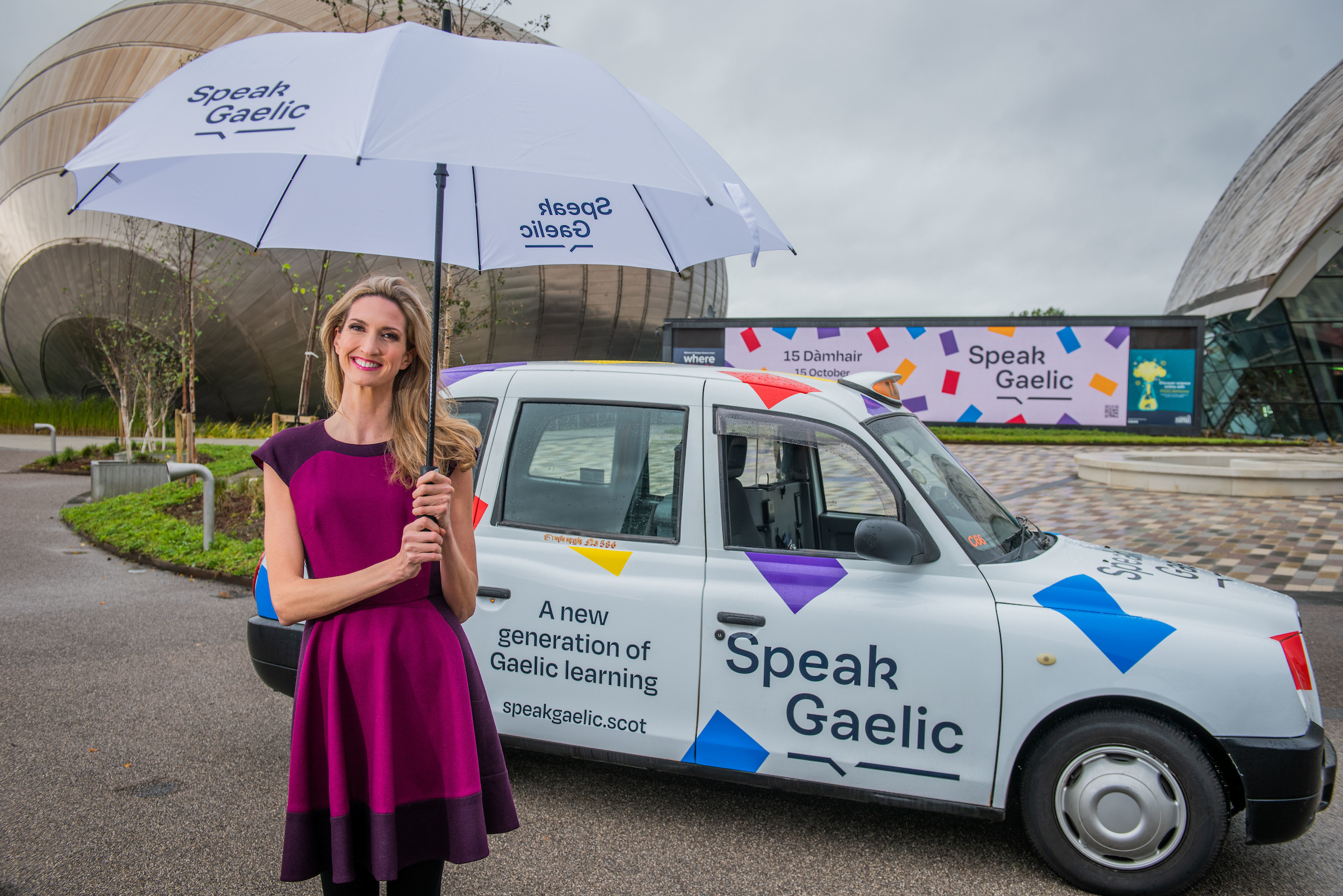 The approach to learning Gaelic is set to be transformed when a new comprehensive language learning course, SpeakGaelic, launches this Friday, October 15.
This multiplatform learning project is being hailed as a game-changer for Gaelic learning, focusing not only on beginners wishing to learn Gaelic but also those who would like to refresh their skills.
On Friday, October 15, all of the SpeakGaelic content for beginners at level A1 will become available on the SpeakGaelic website, with programmes available simultaneously on BBC iPlayer, BBC Sounds, YouTube and other major audio streaming services.
Programmes will also have linear transmissions on both BBC ALBA and BBC Radio nan Gàidheal with complementary learning materials on SpeakGaelic's social media pages.
Face-to-face learning will also be available with local Gaelic classes and tutors adopting SpeakGaelic, catering to those seeking a more structured learning environment with additional media content providing an even more immersive experience.
This approach will mean that new and existing Gaelic learners will experience a truly flexible and adaptable personal experience, allowing individuals to learn Gaelic in whatever way suits them best.
SpeakGaelic programmes will be fronted by two Sabhal Mòr Ostaig graduates: BBC weather presenter, musician and programme contributor Joy Dunlop, and outdoors enthusiast and social media star Calum Maclean.
In the studio, Joy will provide helpful language learning information, with viewers able to join other Gaelic learners on their journeys.
Joy Dunlop, from the village of Connel in Argyll, said: "Learning Gaelic has had a huge impact on my life. It is central to my career, my friendships and most of the passions in my life.
"SpeakGaelic will give many thousands of people access to learning Gaelic – as well as helping those who need a bit more confidence. I am hoping people will embrace the opportunity because you never know where Gaelic may take you!"
Calum Maclean will present SpeakGaelic's out-and-about features while also fronting additional social media content.
Calum is known to social media regulars for his outdoors content (including his unforgettable 'midge challenge'), and in BBC ALBA's Dhan Uisge, he showcases his passion for wild swimming in the seas, lochs and rivers around Scotland.
BBC Radio nan Gàidheal presenter John Urquhart will provide podcast and radio content.
Coinneach Macleod (47) from Glasgow, better known as the 'Hebridean Baker' for his videos that share Scottish inspired recipes and stories of island life, has signed up to SpeakGaelic. He was born and brought up in a Gaelic speaking household on the Isle of Lewis.
He said: "When I go home to the island, my family speak to me in Gaelic. I need a bit of confidence to reply to them in Gaelic, so that's why I'm doing SpeakGaelic."
Caroline Quinn (31), originally from Trinidad and Tobago but now living in Glasgow, has also signed up to SpeakGaelic because she aspires to speak Gaelic fluently.
Caroline said: "I'm probably the only person from Trinidad and Tobago that has Gaelic! Keeping the Gaelic language alive is important because it helps to maintain the culture and traditions as well."
Clare Coghill (28), a chef from the Isle of Skye, has also enrolled on the SpeakGaelic course. She hopes to open a Hebridean inspired café in Skye next year, with a strong emphasis on encouraging customers to speak Gaelic together.
She said: "I'd like to combine my love for Gaelic and cooking in my recipes and through social media."
SpeakGaelic's music is provided by one of the most lauded acts in the contemporary Scottish music scene, electronic-Celtic fusion band Niteworks from the Isle of Skye.
SpeakGaelic, a partnership between MG ALBA, Sabhal Mòr Ostaig and the BBC, with funding from Bòrd na Gàidhlig and the Scottish Government, offers a comprehensive media approach reflecting the modern digital learning environment.
Education Secretary Shirley-Anne Somerville, said: "I am delighted that the Scottish Government has a key role in supporting the launch of SpeakGaelic. This is an initiative which will transform Gaelic learning by creating new opportunities to learn the language. I am confident that SpeakGaelic will attract new people to the language and also increase Gaelic use in communities.
"The Scottish Government would like to commend all those who have been working together as part of this innovative media partnership."
Iseabail Mactaggart, SpeakGaelic Project Director and Director of Multiplatform Content at MG ALBA, said: "SpeakGaelic is the biggest project ever aimed at helping adults take up – and improve – their Gaelic and will be a game-changer to the current Gaelic learning environment.
"It's hugely important that we make it as easy as possible to learn Gaelic, so offering this multiplatform approach allows individuals, classes and institutions to choose their preferred route, with complementary content available whenever they need it."
Shona MacLennan, Chief Executive of Bòrd na Gàidhlig, said: "Bòrd na Gàidhlig is delighted to support this fantastic new resource which will encourage many more people to become part of our Gaelic-speaking community, whether they already have some knowledge or are entirely new to the language.
"SpeakGaelic will contribute significantly to the aim of the National Gaelic Language Plan that Gaelic is used more often, by more people and a wider range of situations."
SpeakGaelic will initially launch with level A1, aimed at those new to the language, followed by A2 in early 2022.
The project will also expand to attract lapsed or less confident Gaelic speakers, defined on the learning scale as B1 and B2, later in 2022 and 2023.
The investment in monetary and in-kind contribution required to deliver the partnership's ambition for the project, including the increased scale required for the more advanced levels, is £4m over four years.
Around 75% of that has been sourced or is in the process of being committed from each of the Scottish Government, Bòrd na Gàidhlig, MG ALBA, the BBC and Sabhal Mòr Ostaig. The partnership is confident that it will succeed in securing the balance required to deliver the project.
Sign up for more information today at www.speakgaelic.scot or follow the SpeakGaelic social media pages – Instagram, Twitter, Facebook & TikTok.