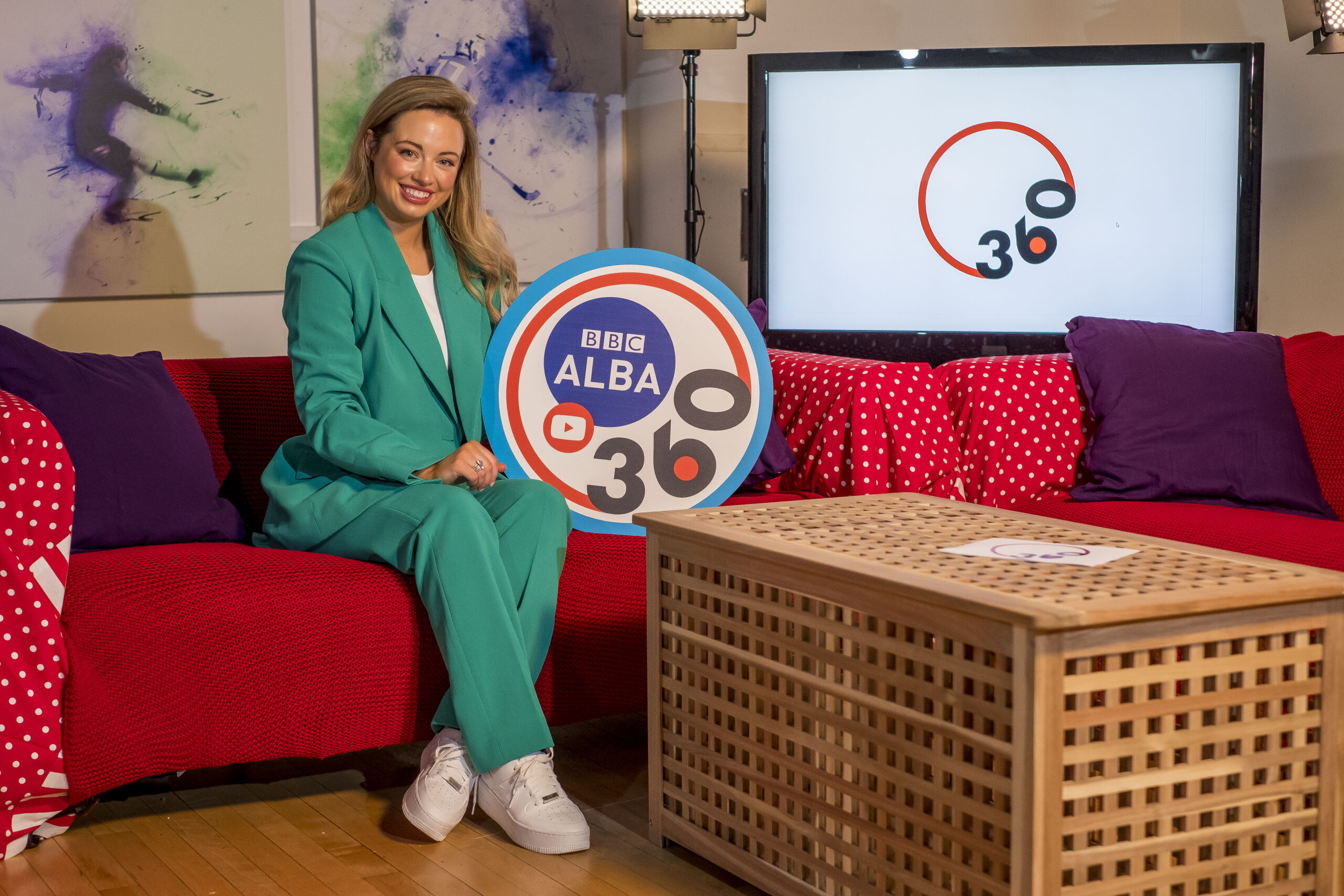 The programme will showcase the women and empowering stories in Scottish sport and will be available simultaneously on both BBC ALBA YouTube and the BBC website.
BBC ALBA positions itself as the home of Scottish women's sport, and the show, 360, represents significant further investment in coverage of women's sport in Scotland.
This announcement comes shortly after the channel's agreement to double its output of women's domestic football in Scotland over the next season, in an agreement with Scottish Women's Football.
The new magazine show launches its first programme on Thursday, August 20th at 8pm.
360 will be presented by Iona Ballantyne, and its focus will primarily be on BBC ALBA's core sports of football, rugby and shinty.
Iona (26) from Glasgow, said: "It's very exciting to be involved with this pioneering new programme from BBC ALBA, which is the first of its kind in Scotland.
"My dad took me and my sister to football games when we were younger so I've always had a love of sport.
"He used to lift me up and put me on the rail and one time a player gave me the ball to head back in so I have some lovely memories from growing up. I remember my dad's passion for sport and that doesn't ever leave you.
"Hopefully 360 spurs things on for women's sport in Scotland so that it gets the platform it deserves. Change is definitely happening now and it's wonderful to be part of it."
360 will celebrate the extraordinary talent within Scotland and beyond, and highlight key issues of the day.
It will include interviews with the biggest names in Scottish women's sport, exclusive highlights and unique behind-the-scenes features.
The first edition of 360 includes a focus on Glasgow City FC and their upcoming fixture against Wolfsburg in the UEFA Women's Champions League quarter final. That match will be shown live on BBC ALBA on Friday 21st – the day following 360's first edition.
Viewers will also hear from Angel City, the newly formed National Women's Soccer League (NWSL) team in Los Angeles, and South African Captain Janine Van Wyk.
Closer to home, Iona will find out how SWPL clubs have been preparing for getting back to football and she will be joined in the studio by Gemma Fay, former Scotland goalkeeper and Head of Women and Girls Rugby at Scottish Rugby.
Iseabail Mactaggart, Director of Multiplatform Content at channel partner, MG ALBA, said: "We are proud to be strengthening our coverage of women's sport in Scotland even further with 360.
"The show will add a further rich dimension to complement our extensive live game coverage, and we are ambitious for it to become an appointment to view.
"Increasing numbers of viewers are consuming on digital platforms, including YouTube, and we are proud to pioneer the creation of even more women's sports content in this format.
"360 creates an opportunity for us to increase the profile of women's sport and ensure that BBC ALBA output is on digital platforms, with high quality, relevant output."
360 is available on YouTube (YouTube.com/bbcalba) and on the BBC website at bbc.co.uk/alba360.