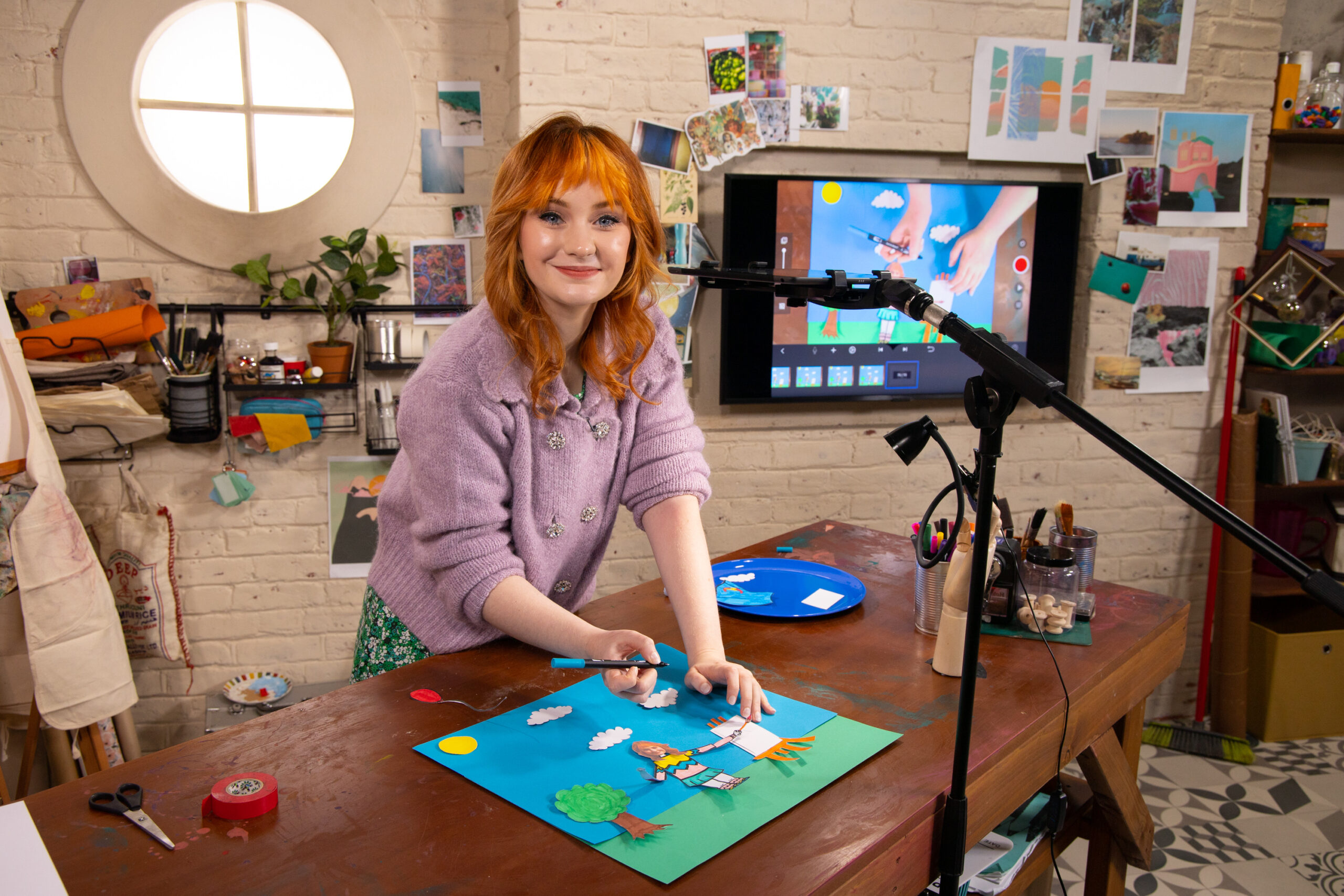 Glasgow School of Art graduate and MG ALBA apprentice Choirstaidh MacArthur stars in A' Chùil, a brand-new series starting on CBBC ALBA where Choirstaidh, will share her artistic know-how with younger Gaelic viewers.
As a student at Glasgow School of Art, and working part-time hospitality shifts, Choirstaidh was struggling to find the chance to develop the skills she was learning at university – until the first lockdown.
"I'd always continued to make art while I worked in bars and restaurants but being on minimum wage meant I didn't have enough money to print my artwork. Suddenly not having to work long, unsociable hours meant I could spend my evenings and weekends creating art."
She said: "Although it would have been nice not have an awful global pandemic, it gave me the chance to have a bit of downtime and do what I enjoy, and all these great opportunities came along."
Greenock-born Choirstaidh first came onto the BBC ALBA radar during this time as a lockdown-inspired project, A-staigh, gave voice to Gaelic-speakers across the country.
Using the opportunity to showcase her art, this caught the attention of the BBC ALBA commissioners who decided to try out Choirstaidh in her own little studio space called A' Chùil.
This is her first time as a TV presenter and she said: "It was slightly daunting at first but after a couple of days things started to click and I began to understand how you do everything, so it became really interesting."
Throughout the series, Choirstaidh gives viewers the chance to ask questions about art and find out about her own artistic inspirations.
"There's a Frida Kahlo episode on self-portraiture and how you can make a picture of yourself out of the things you love most in the world and there is an episode on Hilma af Klint, an early abstract artist, and how you can draw without making a plan to get your feelings across."
"We also do lots of fun crafts – we have an episode where we make our own fossils and we try continuous line drawing, where you look at an object, and without looking at the paper you draw with one continuous line."
A' Chùil brings the thinking behind some of the worlds great artists onto a tactile level, allowing young people to try things that they may never have thought of doing before.
"Art is ultimately not that difficult," says Choirstaidh, "it's all about being intuitive and making stuff. There's something for all ages and there are opportunities to learn new skills. I hope children who maybe don't get much access to art like A' Chùil and find it lots of fun."
A' Chùil begins Tuesday 7 June at 16.45 on BBC ALBA, weekly until 9 September.