Two childhood friends turned go-getting entrepreneurs, Angela and Katie, have started their own cleaning business to take advantage of the AirBnb boom. But with a TV crew in tow chaos is never far away in BBC ALBA's hilarious mockumentary series, Glan Fhèin.
Glan Fhèin is produced by The Comedy Unit, the TV hit-makers behind Scot Squad, Still Game, Chewin' the Fat, Gary: Tank Commander and many other smash comedy shows.
The sitcom, which will be one of the main highlights of BBC ALBA's autumn schedule, will be on screens from September 20th at 10pm.
Glan Fhèin is written by up-and-coming comedy talents Lana Pheutan and Hannah McKirdy, who also star in the show as best friends Angela and Katie.
The three-part show dishes the dirt on Angela and Katie's cleaning company – Glan Fhèin, a punning name which means both 'really clean' and 'really good'.
The plucky new business has two employees – scary office manager, Betty, played by TV newcomer Mairi Alice Macdonald, and hapless ex-con, Daniel, performed by Calum Macdonald. No one is quite sure what Daniel's pregnant girlfriend, Dido, does but Mairead Hamilton brings a hilariously loopy energy to the role. Other regulars include smooth- tongued charmer, Seonaidh, performed by Iain Beggs, and his put-upon brother, Calum, played by Sam James Smith in his first TV role.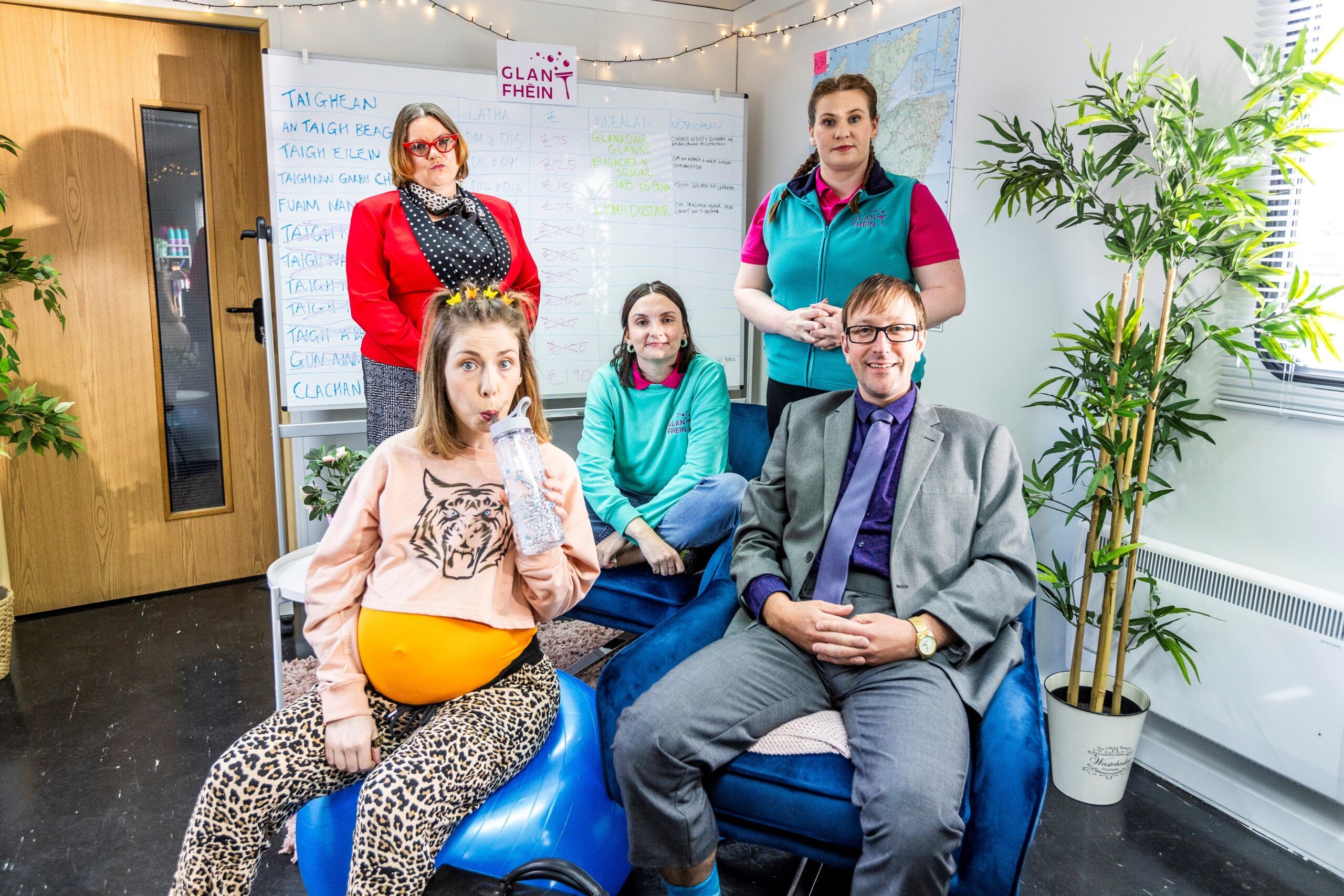 The cast of Glan Fhèin. Front row L-R: Mairead Hamilton, Calum Macdonald. Back row L-R: Mairi Alice Macdonald, Hannah McKirdy, Lana Pheutan.
The series also features a cameo from rising star of Scottish stand-up, Stuart McPherson, playing a brash property owner who mangles the pronunciation of his Gaelic-named holiday home.
Glan Fhèin aims to clean-up and give the competition a bleaching. However, Katie and Angela find a few blockages along the way…
Demanding customers, business rivals, angry protestors, disgruntled employees, pesky wildlife, stubborn stains, and romantic entanglements – it's dirty work but someone's got to do it!
But no matter how messy things get, Angela and Katie are determined to pull on their rubber gloves, pick up their squeegees and deliver big laughs. It's all good, clean fun!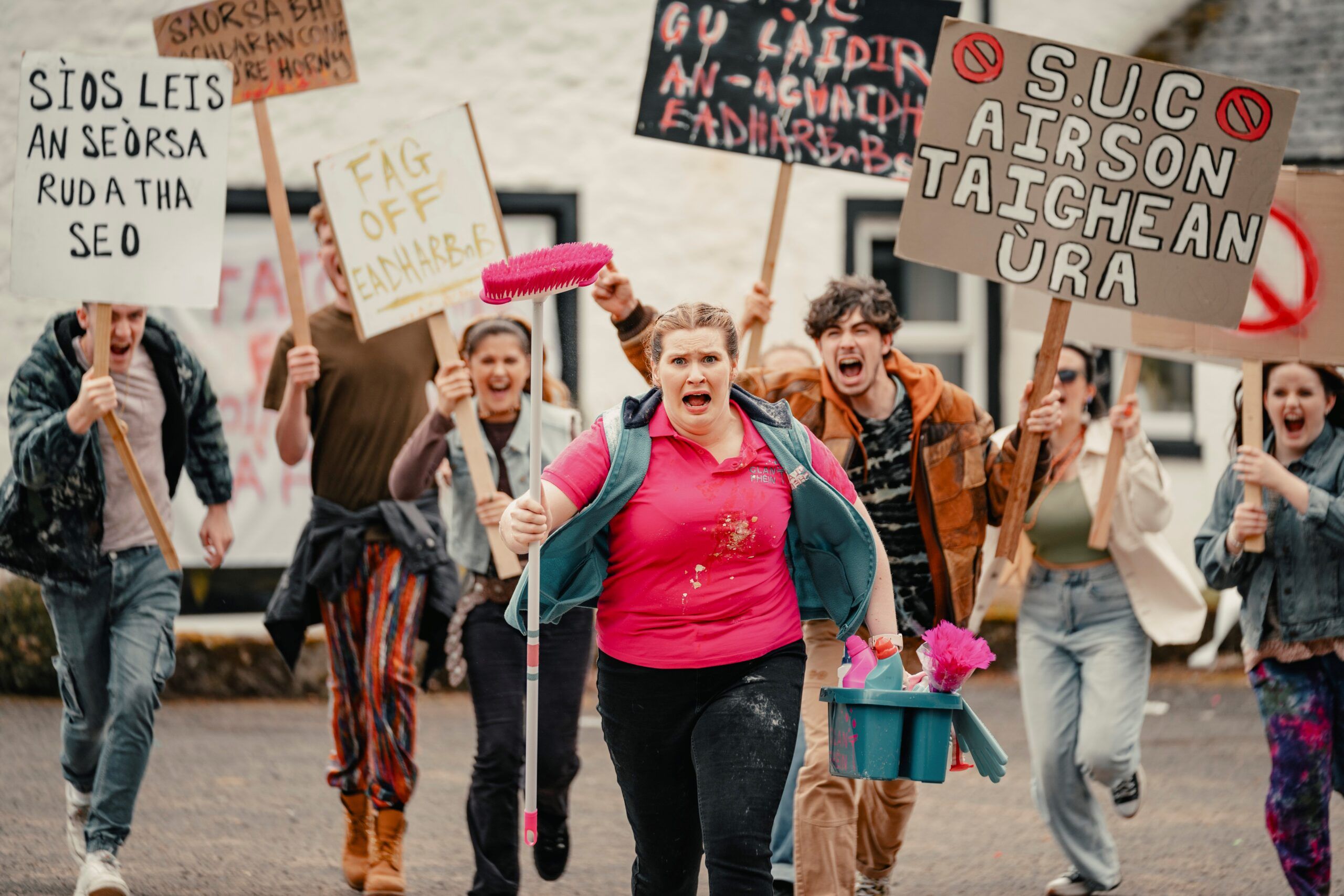 Angela clashes with angry locals protesting about short-term lets.
Hannah and Lana are Scotland's latest comedy writing and performing sensation. The Comedy Unit has worked with several writer-performer duos over the years, notably Greg Hemphill and Ford Kiernan (Chewin' the Fat, Still Game) and Iain Connell and Robert Florence (Burnistoun, The Scotts).
Like these partnerships, Hannah and Lana are a stellar pair, who honed their writing skills on sketch shows before turning their attention to sitcoms.
With Glan Fhèin, they've created fantastic characters for themselves, while also populating the show with a cast of recognisable comic personas that will tickle the funny bones of viewers the length and breadth of the country.
Co-creator Lana Pheutan says, "From the day we came up with this idea for 'Glan Fhèin' to our last day on set, this programme has lifted me up. I am so proud of myself and Hannah, who worked so hard to create the amazing characters in our scripts.
"We wanted to write something that felt new and different, but wanted there to be characters and a community that the viewers would recognise as well. It was so easy to bring this world to life because it's not far from the world we're in right now, just crazier with a lot more misogyny.
"I can't wait to see the whole thing and I hope everyone likes it as much as I do."
Co-creator Hannah McKirdy added, "As young writers, it's not often that an opportunity like this presents itself. I am very proud of the scripts we wrote, and the characters and the world we created.
"We were so lucky that such good and talented actors (Mairead Hamilton; Iain Beggs; Calum MacDonald; Mairi Alice MacDonald and Sam James Smith) were willing to be involved, and they did amazing work to bring what we wrote to life.
"I hope that people will enjoy Glan Fhèin as much as we both enjoyed writing it together."
Rab Christie, Managing Director of The Comedy Unit says, "At the Comedy Unit we are lucky enough to have been working with Hannah and Lana on comedy material for the last couple of years.
We are thrilled McKirdy and Pheutan have created such a fantastic ensemble workplace sitcom! It is a great idea for a show and features a terrific twosome at the heart of the action in Angela & Katie!
"Hopefully the audience will find something hysterical to relate to as Glan Fhèin has universal appeal. There's something for anyone who has ever worked with a pal, stayed in a short-term let or pulled on the rubber gloves to clean-up something icky!"
Bill Macleod, Commissioning Editor for BBC ALBA, says "Glan Fhèin is a comedy clean sweep – brilliantly written, crammed with jokes and full of faultless performances. At its heart it's about friendship – mismatched and messy at times, but always warm-hearted."
Glan Fhèin first airs on BBC ALBA on Wednesday 20th September at 10pm. All three episodes will be available on BBC iPlayer for 30 days after first airing.