Deadline for applications: 12 noon Monday 1 May 2023
CVs should be submitted to cothroman@mgalba.com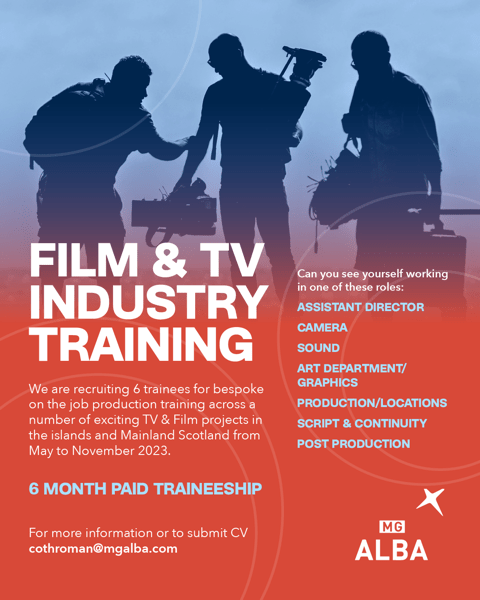 MG ALBA are offering the following to successful candidates:
Up to six months of paid full-time on the job training on work placements across various productions in TV/FILM scripted and factual programming and other projects within the creative digital media sectors
A programme of short induction courses with BECTU Vision
Tailored support and guidance throughout for each trainee.
You will be working with, and learning from, industry professionals as part of a team, gaining on the job experience in a real working environment.
Trainees will receive a monthly salary based on the Real Living Wage (Currently at £10.90 per hour before tax and NI.) for a 40 or  up to 55-hour week. This will be paid at the end of each month.
When attached to on-the-job work placements within the drama production sector you will work up to 55 hours a week.
Online training workshops and on-the-job placements on factual productions will generally involve a 40 hour-week.
Traineeships will commence from 15 May 2023 for 6 months.
The first on-the-job training placement block will be with the An Clò Mòr drama production on Lewis & Harris for 5 weeks.
Other placements will be either within the Western isles or on mainland Scotland.
Trainees will be reimbursed for travel and accommodation costs.