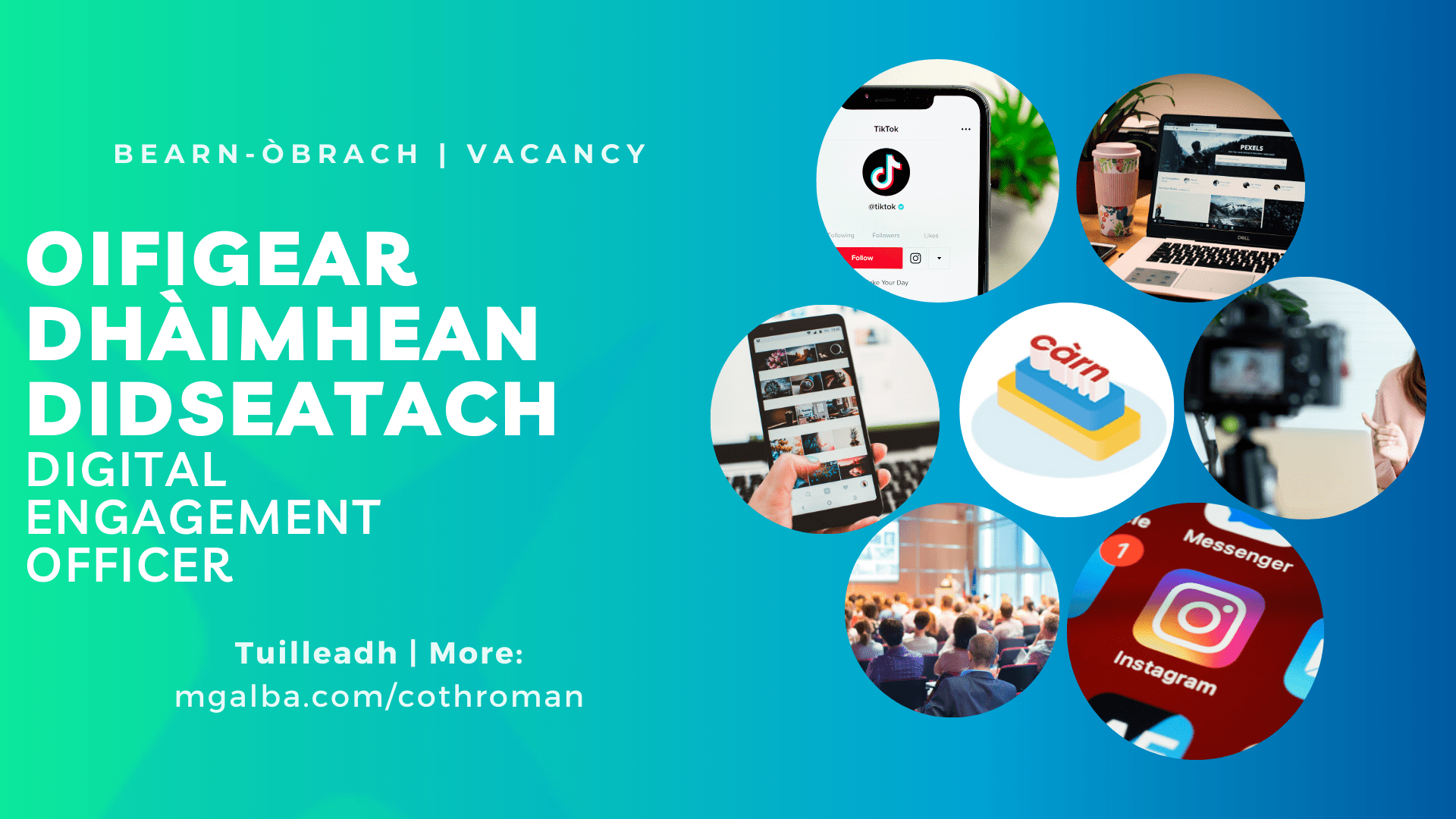 Background

Gaelic media, like all other media, is undergoing significant change. This is both challenging and energising.
This post works to strengthen the visibility of Gaelic digital content, primarily of independent content creators but also including that connected to MG ALBA, its associated brands, and MG ALBA partners.
The main objective of the post is to assist in the successful delivery and co-ordination of digital content initiatives, including Càrn, MG ALBA's social media project aimed at enhancing and developing the Gaelic digital community. The role will also include contributing to and supporting other digital content initiatives, eg, with community partners.
People

Our ideal applicants will possess these core qualities:
• Willingness to be part of a busy and dynamic team
• Excellent interpersonal and communication skills
• A keen interest in digital media, especially social media
• Be a strong team player
• Willingness to commit to learning on the job, supported by professional development and external qualifications
The Role

The Digital Engagement Officer will report to the Brand Communications Manager whilst implementing and delivering the Càrn MG ALBA social media project and other digital content initiatives. They will also assist in day-to-day social media operations for MG ALBA and will support the wider communications teams when required.
Core to the success of this position are a passion and competency for social media and an awareness of the existing Gaelic content creator environment.
MAIN TERMS AND CONDITIONS OF EMPLOYMENT SUMMARY

Grade
Grade B1
Salary
£21,391-£25,444 per annum
Annual Leave
25 days + 12 days public holiday
Pension
Defined Contribution Pension Scheme, MG ALBA contributes 10% of the basic annual salary, rising to 15% if the employee makes a contribution of 5%
Death in Service
4 x Annual Salary
Other Benefits
To encourage healthy lifestyles we offer a paid gym membership. We have family friendly & flexible working practices and offer a cycle to work scheme
Occupational Sick Pay Scheme
Up to two years' service 1-month full pay and 1 month half pay, in a rolling 12-month period
After 2 years' service 2 months' full pay/2 months' half pay in a rolling 12-month period
After 3 to 4 years' service 3 months' full pay/3 months' half pay in a rolling 12-month period
After 5 years' service 4 months' full pay/4 months' half pay in a rolling 12-month period
Learning & Development
Each employee is required to have a Learning and Development plan which will enable them to become more effective in their job and fulfill their annual job objectives. Professional qualifications are encouraged.
Gaelic
Gaelic is the working language of MG ALBA. This post requires a strong level of proficiency in the language. Support will be given to all candidates who wish to further develop their engagement with Gaelic.
Further Information
For an informal discussion about any aspect of this role please contact hr@mgalba.com and we will arrange for a call at a mutually convenient time.
Interested? Next Steps
Please refer to the Job Application Pack.
To apply, please submit a covering letter and your CV detailing your skills, knowledge and capabilities, paying particular attention to the Person Specification. We welcome hearing about your competency and experiences from both employed and voluntary roles. If you would like an informal discussion on the role and the opportunity, please contact Claire Macleod, HR Adviser on hr@mgalba.com and we will arrange for a call at a mutually convenient time.
Formal applications should be submitted by 12pm Friday 8 April 2022 to Claire Macleod, HR Advisor at hr@mgalba.com. To apply, please submit your current CV and let us know by letter what motivates and interests you about the role and working for MG ALBA.
Informal enquiries can be made to Claire Macleod at hr@mgalba.com. Please get in touch if you would like to arrange a confidential chat about the opportunity.
We will send confirmation of receipt of your application by Monday 11 April 2022.
Interviews will be held on Monday 21 April 2022 by Teams Meeting calls.