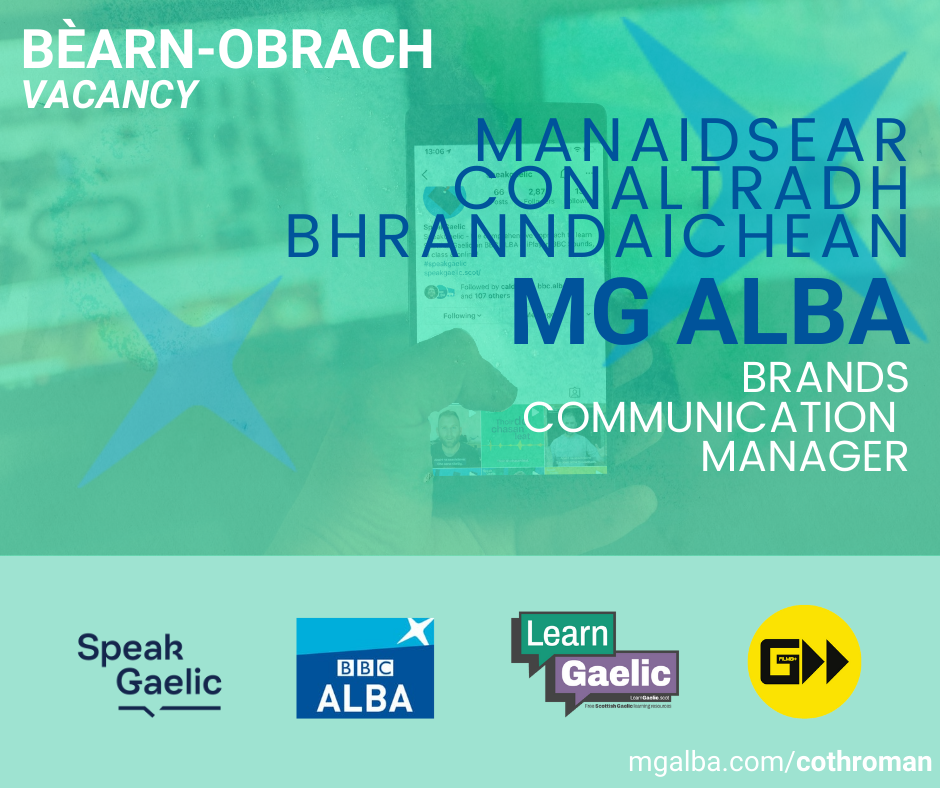 Grade D3, £36,252-£39,526 per annum, includes pension provision & gym membership
Full time (37 hours per week), permanent contract, base location flexible
The Post
This is an excellent career opportunity for an experienced brand, marketing or communications professional to join the team at MG ALBA in the role of Brands Communication Manager. Based within our Content Team, the postholder will contribute significantly to the effective engagement of all MG ALBA content brands with the people and audiences that we serve. These include BBC ALBA, SpeakGaelic, LearnGaelic and FilmG.
If you are an experienced marketing or communications professional, with a positive attitude to work, excellent communication and interpersonal skills and an interest in the broadcasting sector then we would love to hear from you. The ability to author messages in Gaelic is essential. You will be fully supported with a comprehensive training plan and personal and professional development as part of this opportunity.
Who are we?
MG ALBA, Scotland's Gaelic Media Service, operates the Gaelic television channel BBC ALBA in partnership with the BBC. Our Operational Plan for 2021/22 provides important information about our aims and outcomes for this year.
Where are we?
We have offices in Stornoway and Glasgow. This post can be flexibly worked in line with our adoption of agile working practices.
Other interesting information about working for MG ALBA
Nominated as one of the best places to work in broadcasting in the UK for 5 consecutive years
Investors in People (Platinum) & Investors in Young People (Gold)
We offer 25 days annual leave + 12 days public holiday
We pay 10% to a pension scheme for you, and add 5% if you match i
To encourage healthy lifestyles we offer gym membershiP
We have family-friendly & flexible working practices and offer a cycle to work scheme
Interested? Next Steps
Please refer to the Job Application Pack.
To apply, please submit a covering letter and your CV detailing your skills, knowledge and capabilities, paying particular attention to the Person Specification. We welcome hearing about your competency and experiences from both employed and voluntary roles. If you would like an informal discussion on the role and the opportunity, please contact Claire Macleod, HR Adviser on hr@mgalba.com and we will arrange for a call at a mutually convenient time.
Formal applications should be submitted by 12pm Friday 7 January 2022 to Claire Macleod, HR Advisor at hr@mgalba.com. To apply, please submit your current CV and let us know by letter what motivates and interests you about the role and working for MG ALBA.
Informal enquiries can be made to Claire Macleod at hr@mgalba.com. Please get in touch if you would like to arrange a confidential chat about the opportunity.
We will send confirmation of receipt of your application by Monday 10 January 2022.
Interviews will be held on Monday 17 January 2022 by Teams Meeting calls.